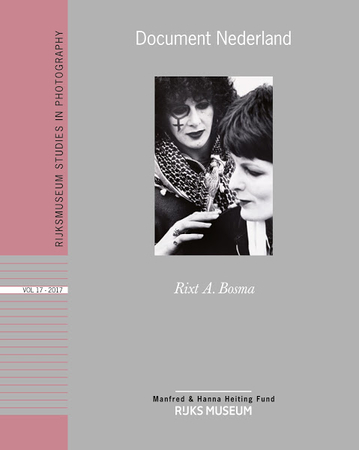 Order the book at the Rijksmuseum webshop:
Document Nederland book
Document Nederland
Rixt A. Bosma, 2017

Published with support from the Manfred & Hanna Heiting Fund in the series Rijksmuseum Studies in Photography, volume 17
Hardcover | 56 pages | over 40 full color illustrations |
21,5 x 26,5 cm | English language | edition of 750 copies |
Editorial coordination: Mattie Boom, Saskia Asser, Hans Rooseboom



about the book
Since 1975 the National History department of the Rijksmuseum in Amsterdam has commissioned over 60 photographers to create the annual photographic essay about present day Holland. It is one of the very few long running annual photography commissions known in the world. The main objective is to "collect contemporary history", utilizing the "documentary qualities" of photography. Each year, one or two renowned Dutch photographer(s) set out to document a specific theme - a great variety of universal and more specific Dutch ones - like food production, youth culture, unemployment, water management, health care, feminist movement, corporate culture and technology, party and leisure culture, the art world, national elections, immigration and the Dutch landscape. Over 3000 prints resulting from the annual commission are kept in the museum's Print Room and each year new work is shown to the public in an exhibition, often accompanied by a photo book and a yearly newspaper folio.
What are the origins of this commission? What were the main concerns in 1970s museum politics to address the need to "collect" the present day, and how did it develop over time? What is its position in the international context of commissioned photography? And how does photography function in this context and how successful has this photography commission been?